Filter by Category
Breastfeeding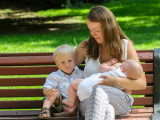 Online Registration Unavailable
Breastfeeding Support Group
with Janice Lessard

Next session starts
Empowering you through mother to mother support.
This free support group is a great opportunity to meet other new breastfeeding mothers in your community, share experiences, and receive postpartum and newborn care information and support. A lactation consultant is on hand to answer your questions, provide guidance, and perform infant weight checks.
This group is held every Thursday from 10:00 - 11:30 AM in the Webber Building Conference Room on the second floor.
FREE, no registration required
Please call 207-283-7335 with any questions.
Online Registration Unavailable
Prenatal Breastfeeding Appointment
Price not
available
with Janice Lessard

Next session starts
Breastfeeding is best for your baby but it can be hard too. Scheduling a prenatal appointment in your third trimester will help you with the successful outcome you're hoping for. Learn about:
Benefits of breastfeeding
Positions to hold your little one
Common concerns and challenges for new moms & dads and what to do about them
Local resources and so much more
PLEASE call 207-283-7335 to schedule your personal appointment. Partners & support people are encouraged to attend.