Filter by Category
Childbirth Preparation
Celebrating Birth ~ Childbirth Preparation
with Rebecca Sevigny

Next session starts Feb 23, 2019 at 9 am
8 additional sessions through Nov 23, 2019
Being prepared for childbirth can ease your mind and make your birth experience what you hope it will be. This class will give you the information, resources and skills to prepare you for the birth of your baby.
This class will cover:
Anatomy and physiology of the birth process
Stages of labor
Pain management & control options
Positions to labor in
Breathing
Positive thinking
A tour of the Birthing Suite
Please bring 2 pillows and a blanket to make yourself comfortable for relaxtion/breathing time.
Expecting mother/couple should be in their last trimester. Class fee is per couple. When checking out, please don't add your support person as an additional attendee, only enter their name when asked.
New Dad-to-Be Class
with Lee Cote

Next session starts Jan 21, 2019 at 6 pm
3 additional sessions through Jul 15, 2019
New dads-to-be have their own questions. Join other men to get answers and information on the amazing year ahead! Topics will include:
Planning and preparing for your new addition
Your partner's labor and delivery
What to expect once you get home
This class is for men only.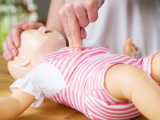 Safe Baby ~ Infant Safety & CPR 2019
with Rebecca Sevigny

Next session starts Feb 28, 2019 at 6 pm
9 additional sessions through Dec 12, 2019
It's never too late to take an Infant CPR class! This class is for parents, grandparents, childcare providers and anyone who takes care of your baby.
This is a non-certificate course through American Heart Association, Friends & Family program. Learn basic infant CPR & choking rescue, along with basic home safety for your little one.
The text Family & Friends CPR will be provided. SMHC certificates of completion are available upon request.