Filter by Category
Grandparents
Registration Unavailable
Grandparenting Today ~ It's Different Now
with Rebecca Sevigny
Grandma/Grandpa. Nana/Pop. Memere/Pepere. There's more to figure out than just what you're going to be called.
This class will teach you how your baby's baby will be cared for differently than you cared for them. Topics will include:
Basic Infant CPR
Car Seat Safety
Vaccines
Safe Sleep
Food Recommendation
Learn how you can support your child in their parenting journey while keeping the peace and new evidence-based guidelines.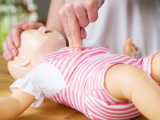 Safe Baby ~ Infant Safety & CPR 2019
with Rebecca Sevigny

Next session starts Feb 28, 2019 at 6 pm
9 additional sessions through Dec 12, 2019
It's never too late to take an Infant CPR class! This class is for parents, grandparents, childcare providers and anyone who takes care of your baby.
This is a non-certificate course through American Heart Association, Friends & Family program. Learn basic infant CPR & choking rescue, along with basic home safety for your little one.
The text Family & Friends CPR will be provided. SMHC certificates of completion are available upon request.
Safe Travels ~ Car Seat Class
with Rebecca Sevigny

Next session starts Feb 5, 2019 at 6 pm
5 additional sessions through Dec 5, 2019
Car seat safety has changed a lot over the years. Do you know the safest way to buckle your baby up?
This class helps inform parents, grandparents and other caregivers of the importance of proper child restraint use (car seats) for their infant. You will learn:
Evidance-based information
Do's and Dont's of car seat safety
Proper installation of infant seat & base
Please bring your infant seat, base and owner's manuals for both the seat & your vehicle (if possible). A variety of car seats will be present for demonstration purposes as well.